SOLUTION
Private cloud infrastructure development
Review
Private Cloud is one of cloud infrastructure subtypes that allows providing services of IT-department (or outsource IT-company) to users inside the organization.
Often IT-department is perceived as a wasteful department though in practice just this department provides basis for effective work of present day organization. The problem is that commonly only expenditures for IT-infrastructure are taken into account and its services cannot be counted. This fact disturbs not only IT-department for which it is difficult to prove new expenses for development and maintenance of systems but also users for which it is difficult to receive service of required quality in time. Moreover this approach results in inefficient usage of available resources.
Organizing provided services as cloud infrastructure allows acquiring processes manageability, accurate resources counting and optimization, decrease of service quality dependence on IT-department and its work load.
Realization
Solution efficiency for a customer is the most important for us; therefore we are not limited with standard solutions. Such flexibility allows creating solutions meeting the requirements of the organization to the largest extent.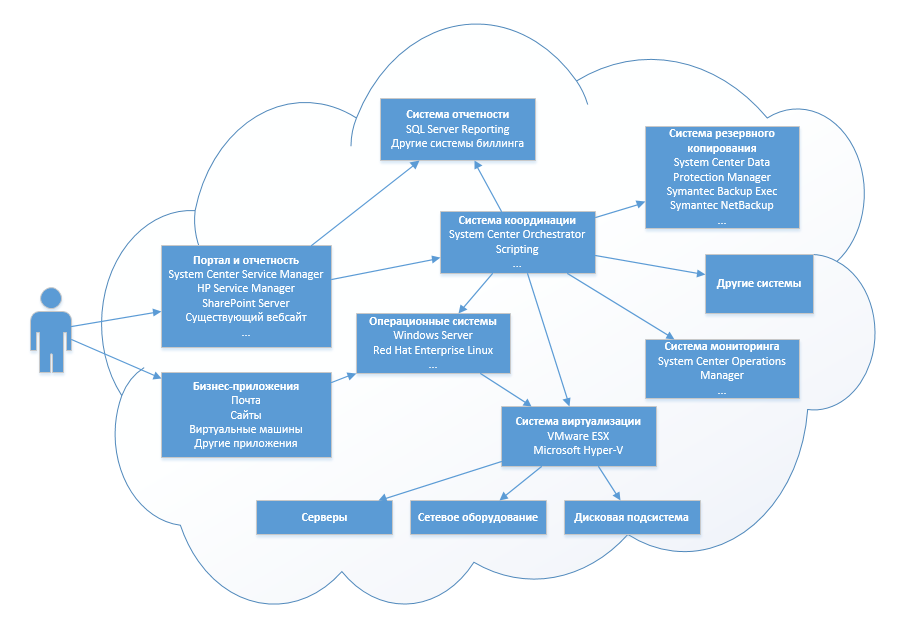 Generally the lowest level (if we exclude hardware and network infrastructure) of private cloud is virtualization system. Virtualization allows using available server hardware, networks and storage systems as shared resources and flexible distributing them among guest operating systems in required ways. Besides, the requirement of single developer is optional, in many instances up-to-date systems allow using virtualization systems of both Microsoft and VMware and both at the same time as well.
The next important element is a portal for interaction with users. Since it is the main window from users to resource management, the main requirement to this component is its handiness for end users. Therefore anything that they have used to use can serve as a portal to some extent, for instance:
Separate web-site or a section on existing web-site. For example, site can be based on SharePoint or specially developed for organization's needs.
Process and service management system. Such system is the best solution for service management by using common interface or portal. HP Service Manager or Microsoft System Service Manager can be examples of such systems.
Quite often solution with integrated Microsoft Service Manager web-portal where service requests can be created via web-browser including ones on mobile devices is preferred. This approach allows integrating service providing process into existing incidents and changes management system or laying a foundation of such system development in future. An example of service request (in this case – virtual machine) is given below.
Coordination system serves for integration of infrastructure components with each other and for service management processes automation. In this concern we recommend System Center Orchestrator having large functionality for integration of System Center components or other systems released by Microsoft or other developers. Such system allows getting out the scope of simple and common for industry scenarios while providing services and individual approaching to existing and desired customer's processes.
Reports on infrastructure using are gathered by different available monitoring systems and are consolidated in SQL Server database. Further this data is used when setting services quotas or for configuring reports.
Other important components of private cloud are monitoring and backup systems helping to monitor failures in work (and preventively as well) and restore system components and user data when required.
Generally project of private cloud development includes a stage of pilot deployment when management factory (a set of systems providing cloud functioning) is created on the limited number of servers. Then the management factory is expanded at the stage of industry implementation after testing and debugging processes are finished.
Furthermore a stage of Proof of Concept can be included to the project. This stage is necessary in case the solution depends on the capability which is possible but has not been tested by practical consideration. For instance, capability of integration with internal customer's system.
Private cloud implementation allows cutting expenditures for IT-infrastructure to large extent, increasing its clarity and manageability and improving service quality.
To know more about possibilities and approaches to private cloud realization at your infrastructure, please use this form.